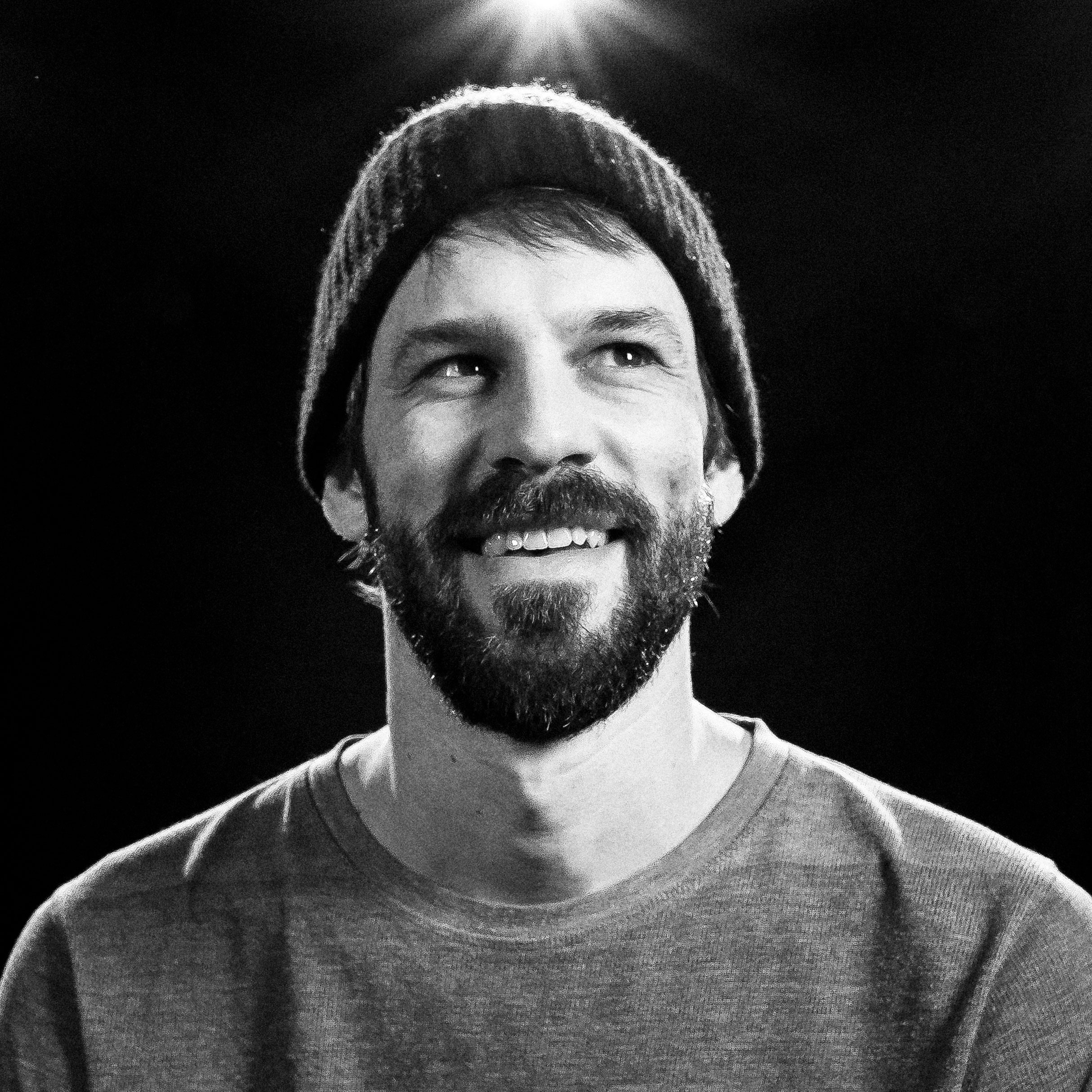 Zach Koss
Designer | Creative | Leader
Current Climate
Adaptive approaches to communicating Minnesota's
climate challenges through graphic design
Overview
Current Climate was my thesis project for my MFA in Design degree. The communication about issues caused by climate change is often too complex or vague to be understood by people in a meaningful way. This project addressed this issue by creating adaptive approaches to communicating climate challenges through the use of accessible and provocative graphic design. The graphics were made accessible by focusing on localized issues. The graphics were informed and influenced by climate science, global warming literature, and qualitative interviews with designers.
Interviews
Qualitative interviews with various designers were conducted to gain general information on different approaches to designing for political issues.
Selected Interview Questions:
Do you consider your work political?
Do you feel designers have a responsibility to contribute to political movements?
Do you think graphics inform and inspire people to act on Climate change?
What's the biggest barrier to participating in climate activism?
Do you feel that policy or laws alone will change it or is it up to citizens/consumers?
Do you consider climate change on a daily basis?


These interviews provided valuable insight into to the project. The results of these interviews helped refine the scope of further research.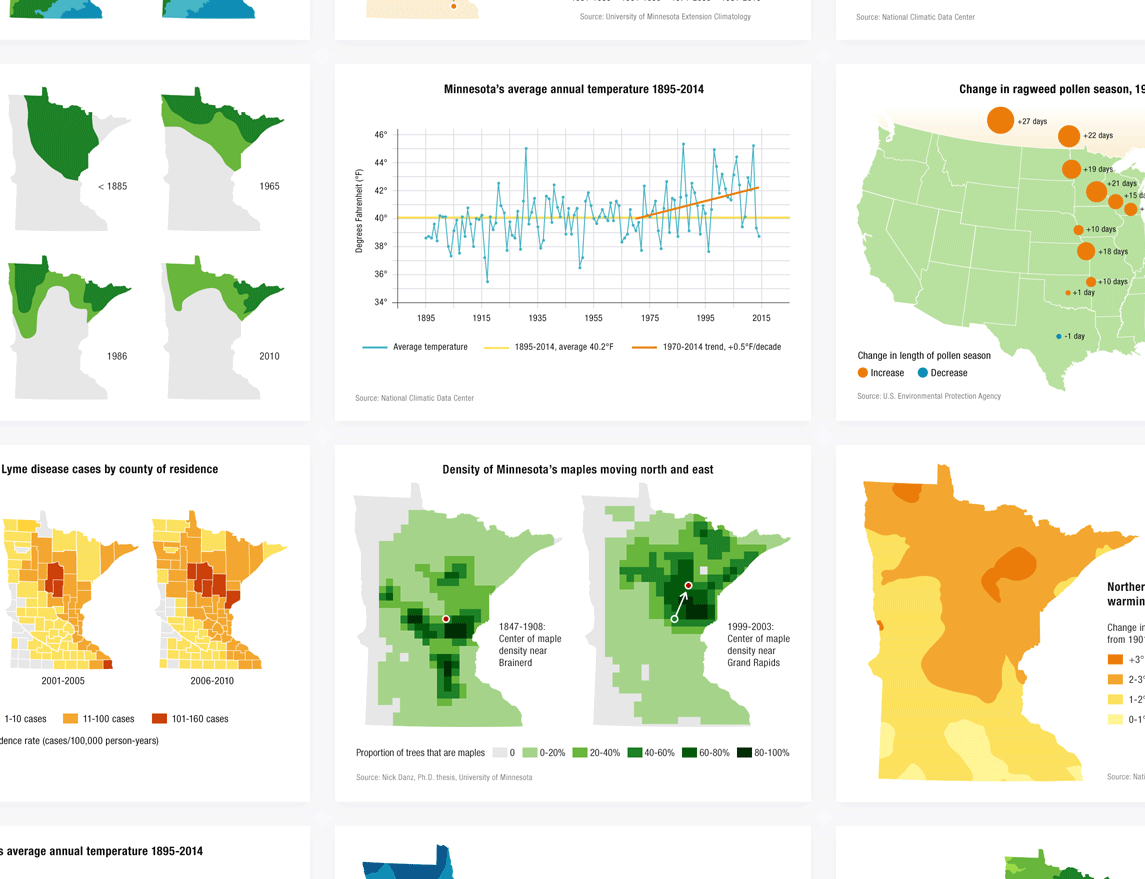 Research
To gain a comprehensive understanding of climate change, general climate science resources were researched and reviewed. Research was then refined to focus on issues in Minnesota. Most of the resources came from local organizations such as the Minnesota Department of Health, Minnesota Public Radio, the City of Minneapolis and the Minnesota Department of Natural Resources.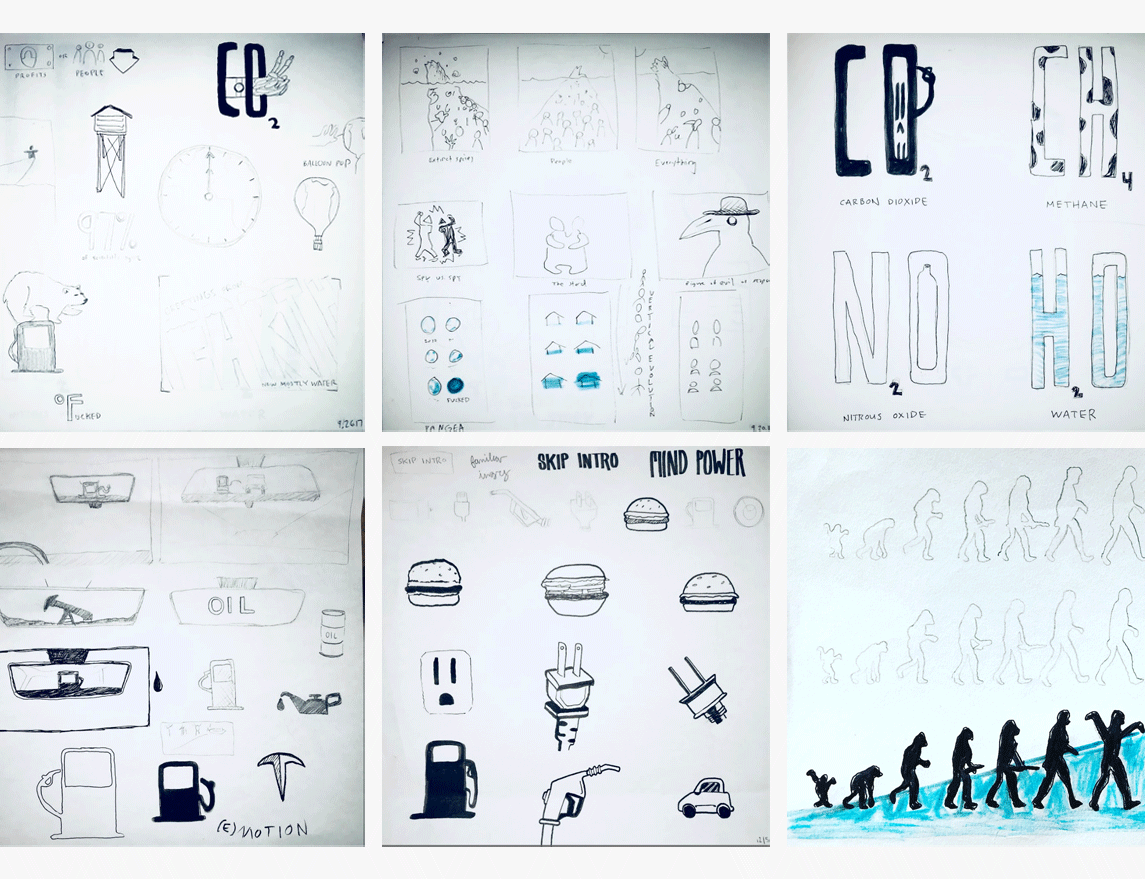 Sketches
Following the interviews and research, multiple rounds of sketches provided room to explore the different ways of representing these issues.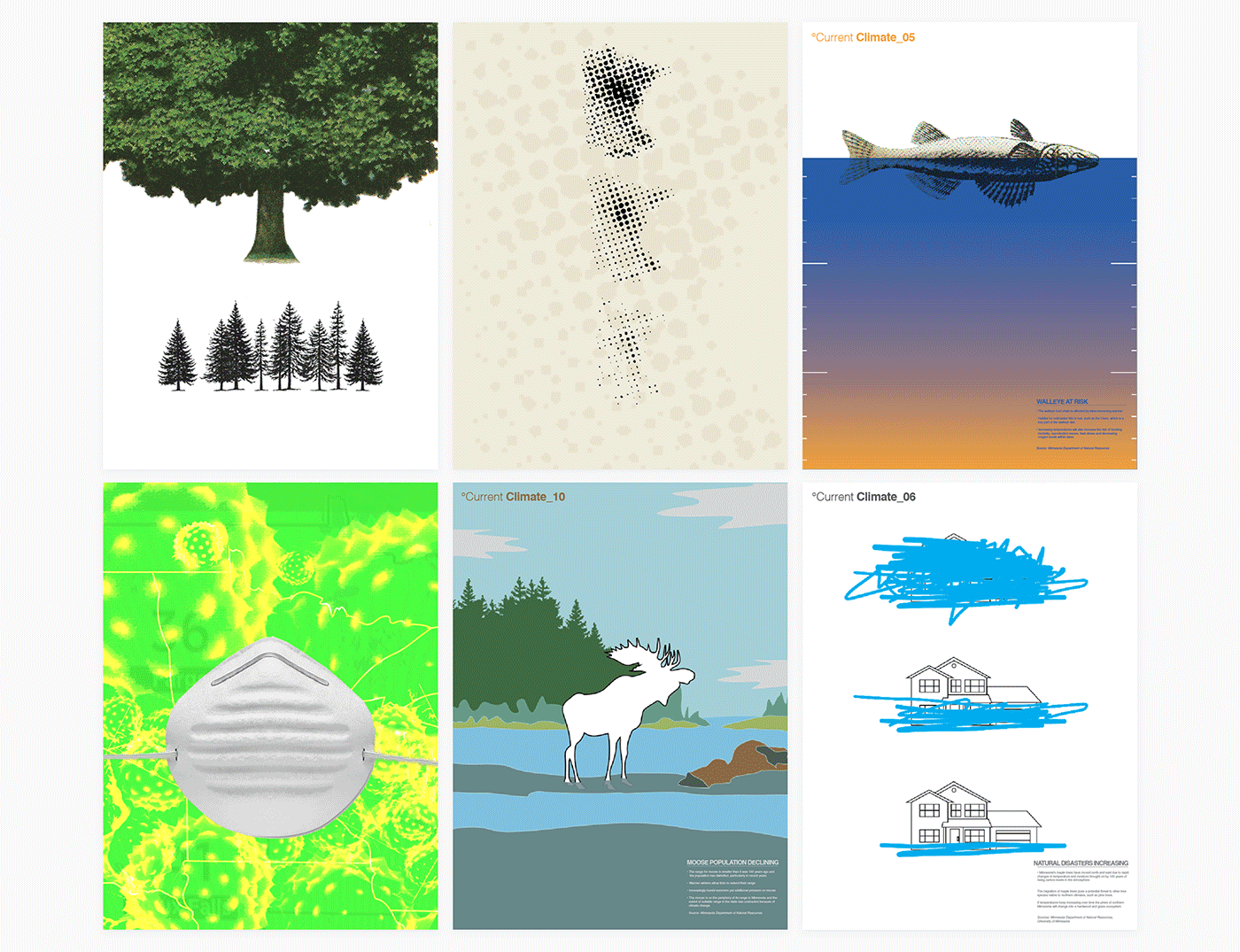 Iterations
Following the sketches, digital iterations were created to solidify final concepts. Eight rounds of iterations and reviews (with thesis panel) were conducted before the final graphics were created.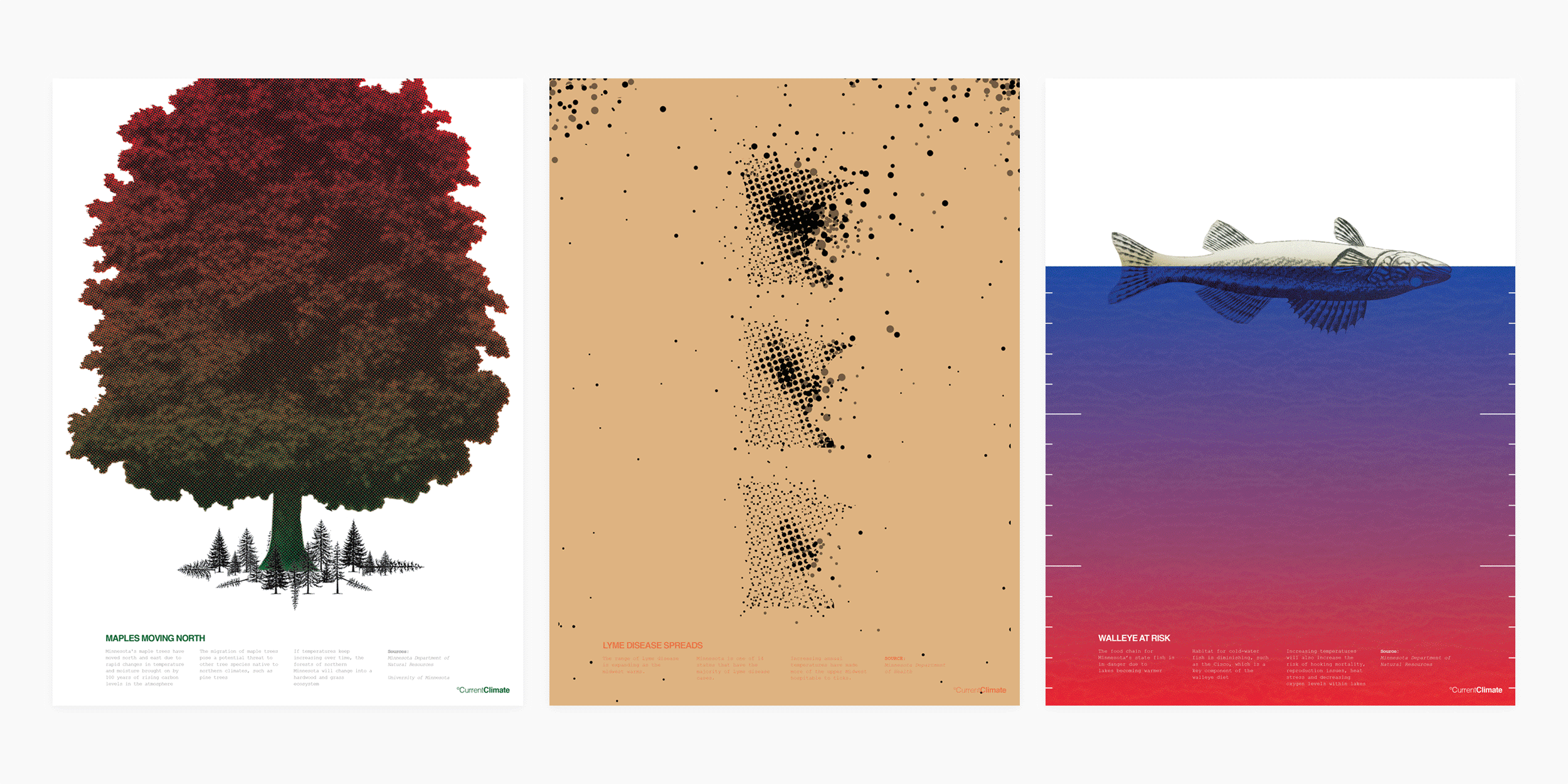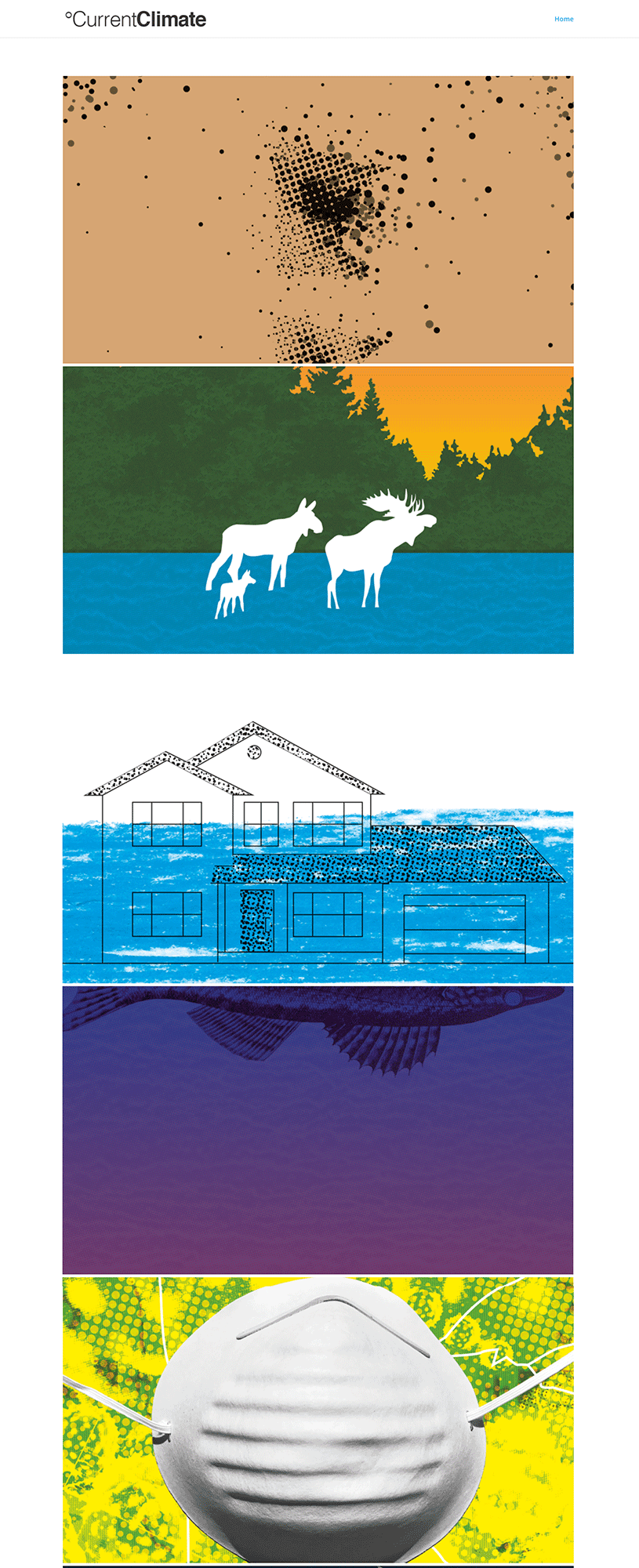 Website
In addition to the poster series, a web component was created to serve as a supplemental resource for viewers. The site includes additional information, data, resources, and visual assets to provide insight into the process behind the project. The poster series and website were disseminated to the public at a group gallery exhibition.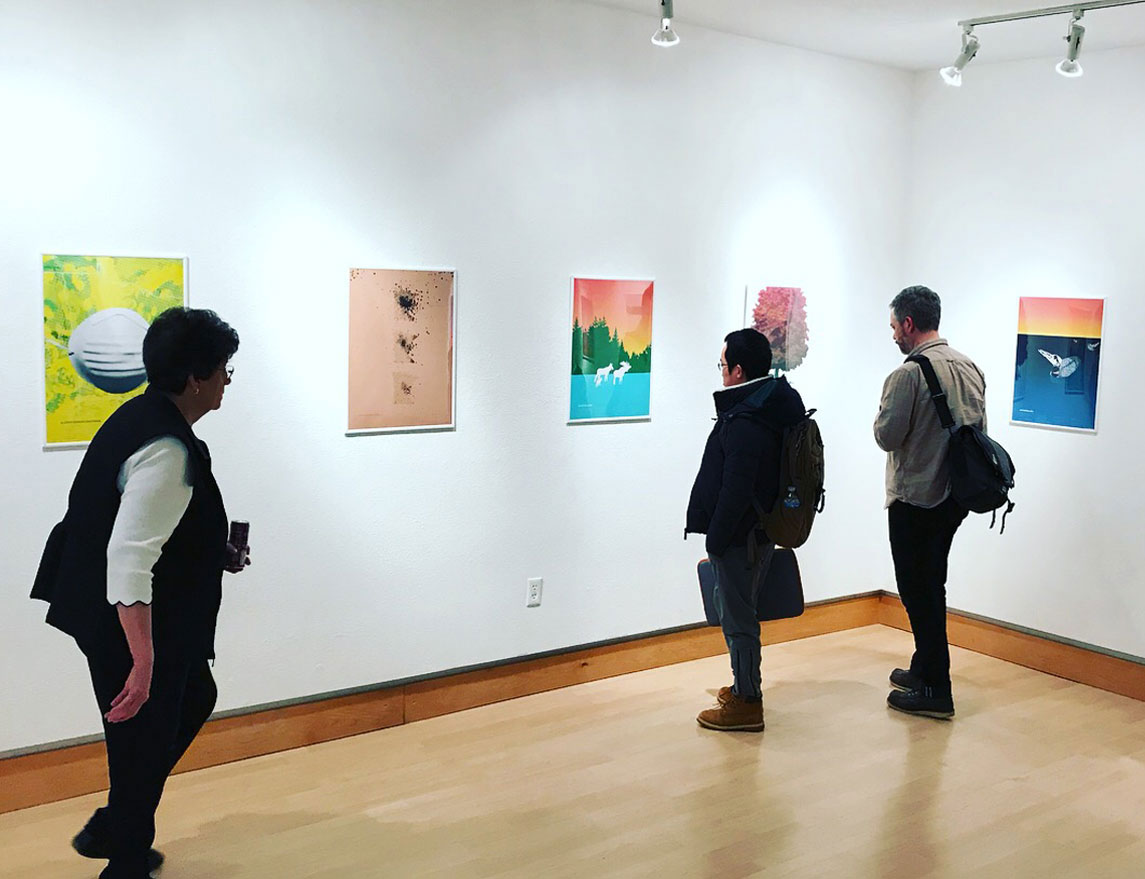 Gallery Exhibition
The project was displayed publicly as part of a group exhibition titled, MFA in Design Creative Thesis Projects: Path, Politics & Story. The posters were arranged and displayed based on their compositions and colors to achieve a balanced experience for viewers.

Viewer feedback included compliments on the colors and overall poster concepts. One viewer critiqued the typography, requesting that it be made larger and more legible on each poster. The most telling conversations seemed to revolve around the specific climate challenges addressed by the graphics. This was a successful indication that the posters resonated with viewers and generated conversations based on the local issues depicted.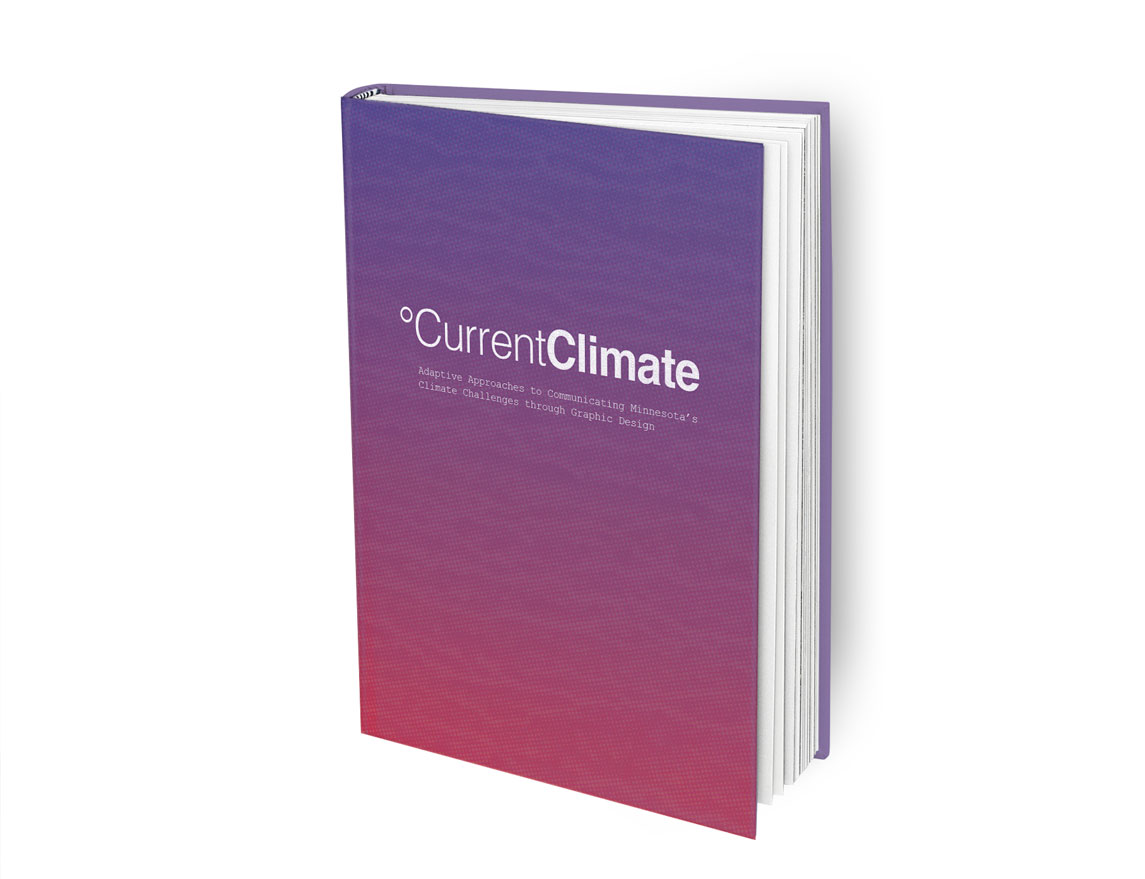 Report
The final requirement was to create a detailed report of the project. This report includes in-depth details about the research, interviews and overall process of creating Current Climate.